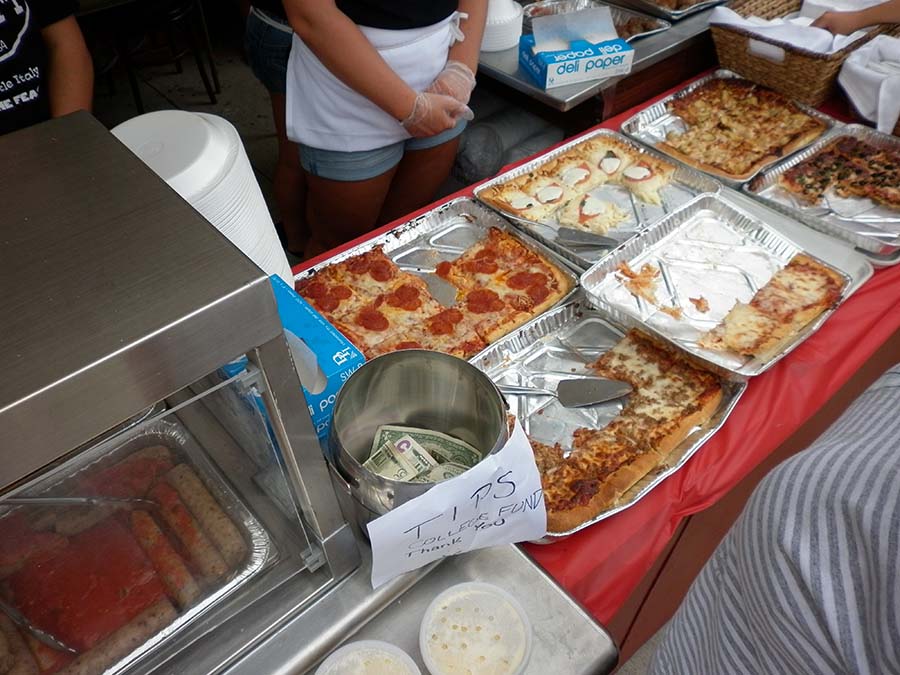 2016-2020 1st place champ: Trattoria on the Hill

(Updated August 2022)  This is going out to real foodies: Let's face it. We're dealing with mass quantities of food here and there's an art to it. Trattoria mastered this art years ago. It's my go-to place for sausage/pizza sandwich, eggplant and stuffed peppers.
I mean, if you can do eggplant this tender and good in mass quantities, you got serious skill and organization going on in that kitchen!
Here's a quick video for novice Feast goers:
2022 1st place champ: TBD
I must say that I was very disappointed with Trattoria's pizza this year and they ran out of their world famous eggplant roullettes Saturday, so that bummed us out.
The best sausage/pizza this year was from Corbo's side (see video below). And I have two more trips to The Feast this year before I make this bold decision. Please give us your opinion in the comments below.
UPDATE POST 2022 FEAST
I went to the Feast each night, and I can honestly say that each night would have featured a different winner of "Best" this or that. Each vendor took turns running out of their favorites – except Mia Bella -they remained well stocked with their usual quality variety of pasta offerings, but at $14 per small bowl, they weren't selling very much the last couple days.
I'd say Corbos, Trattoria and Maxi's were tied for best overall – just depended on which day you went.