The annual Little Italy Feast of the Assumption (referred to informally as The Feast) is a four-day Catholic street festival centered on Holy Rosary Church on Mayfield Road near its intersection with Murray Hill Road in Cleveland's Little Italy neighborhood.
 Congratulations to our new
Miss Italia of Ohio 2022-2023 – Mia Glassco
In October 2022, Mia Glassco won the Casa Italia Foundation's Miss Italia of Ohio 2022-2023 pageant.
"Not only did I have an amazing experience, but I got to learn so much about my culture and family history. I dedicated a part of my proceeds to the Northern Italian American Foundation (NOIA) to support preserving the culture in the Cleveland Area. I grew up in Cleveland and have been going to Little Italy since I was a baby. I really would love to start getting the younger generations involved in the beautiful culture that we have. If there is anything that I can do to support Little Italy in the future please let me know."
— Mia Glassco
Mia is 23 years old. Just graduated from Baldwin Wallace with master's degree in Accounting.  Mia graduated summa cum laude while playing NCAA DIII women's ice hockey all four years. She plans on going to law school to practice tax law.
Mia currently works for a CPA firm in downtown Cleveland, and is also coaching ice hockey.
Her family is from Cucurri, Italy. Most of Mia's large Italian family still live in the Cleveland area. Mia wanted to become Miss Italia of Ohio to promote the younger generations in participating and learning about our culture.
August 2022 Feast dates:
Friday, August 12 – 6pm to Midnight
Saturday, August 13 – Noon to Midnight
Sunday, August 14 – Noon to 11pm
Monday, August 15 – Noon to 10pm
---
*** 2023 dates will likely not be confirmed until Spring 2023. But will be in mid-August.
For more info, contact the Holy Rosary Church
12021 Mayfield Rd, Cleveland, OH 44106
(216) 421-2995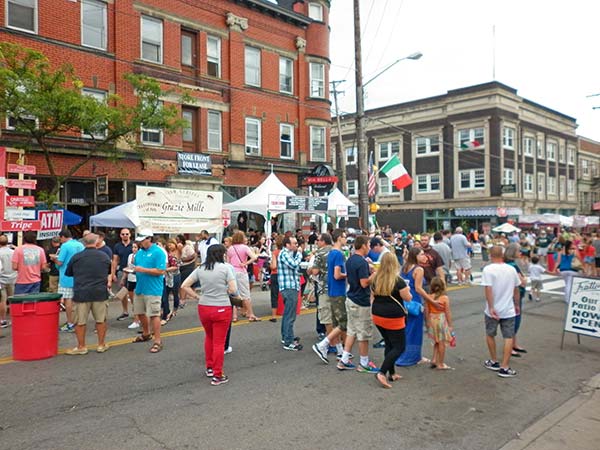 Video: quick look at Little Italy's Feast of the Assumption 2022 kickoff. We include some "Best of…" opinions in the video, but they are just our opinions. We'd love to hear yours.
read more